About Exchange Rate
Welcome to the About Exchange Rate page for finding out more about me and about exchange-rate.com.
About me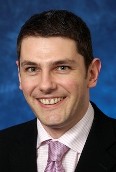 Hi, my name is Peter Chalder-Wood and thanks for coming to find out more about Exchange Rate.com. It is a (very) part-time affair and my first foray into owning and running a website! I bought the domain name originally with a thought that it might have some value - more than just its registration cost.
This is a photo of me. It's a bit of a corporate portrait, what with the backdrop, the suit and the pose, but it was taken as a formal publicity picture for a company I worked for so I thought I'd use it here.
About Exchange Rate website

So, what do you want to know about me? I hit lucky I suppose. I came late to the domain name gold rush of '99-2000 when everyone and their dog seemed to be buying domain names. Towards the end, in March 2000, I was searching for names that might be valuable and I came across the word combination Exchange-Rate.com. It had the hyphen, but I thought I'd snap it up as it seemed that financial services and a global marketplace might mean it was a valuable piece of real estate! I did nothing with it for a few years other than re-register it now and again.
I currently work in Business Development and Marketing in the North East of England. I work full time and to be honest, I didn't quite know what to do with the domain name. I wondered about selling it at auction in the domain name aftermarket, but what would it go for? I've no idea. £1,000, £5,000, £10,000, or more? Would it be more valuable if I held on to it for a few more years? When you see the prices that some domain names have fetched in the auctions you'd be stunned. However, one thing I knew is it would be more valuable to sell on eventually as a going concern with existing income and a known amount of website visitors. Also, website visitors would mean ongoing revenue; if only I knew how to go about it.
I looked into cheap website hosting, Google Adsense and other ways of making money on the internet, but nothing really seemed to fit with my full time job, spending a minimum amount of money on it, but maximising the amount of income from it.
It was also a bit galling when the internet service provider that I'd registered the domain name with started putting their own Google Adsense adverts on it. Why should they earn money from it when I'm paying the registration fees to them as well? Humph! That money should come to me! However, credit to them for maximising their income from the domain names that people had registered with them, but not created websites for.
After a while, I came across a company called Solo Build It that fits with all my criteria. They offer a full package of tools and support for a reasonable amount of money, but more than that, they offer a model of how to go about building a profitable business online. It's very simple and easy for people to use, even those amateurs like me without the slightest understanding of web software and technology. You don't even need a domain name – in fact they strongly recommend you find your niche before choosing a domain name. They have an action plan and tools to help you do this as well.
However, you must be willing to put in a decent amount of effort upfront because the rewards are long term. It's not magic, nor is it a get rich quick scheme. It is very straightforward, but does take effort, thought and motivation. Their model follows the CTPM route. That is, create great Content, build targeted Traffic, Pre-Sell those visitors with information they are looking for, and then (and only then) Monetize and create income for the business.
So, I thought I would have a go! I have travelled a lot, I know quite a bit about exchange rate information, I've spend a lot of time sorting out travel money and I'm good at researching information on the internet. Therefore, I thought I could put all this together to make a website about exchange rate information that would provide you all with good, in-depth help and advice about exchange rates and travel money.
Click here for more information about Solo Build It. You too can use it to:
Make money to buy time for yourself.
Replace your normal income if you fancy becoming self-employed.
Work at your passions rather than just at a job to put food on the table and pay your mortgage/rent.
My aim is to use my Exchange-Rate.com website to generate some income so my wife and I don't have to work full time at our jobs and we can free up some time for ourselves to do what we want. Which for me, means other business opportunities that I can do in my own time. I have started down this process and I'm by no means there yet, but I'll add updates occasionally about Exchange-Rate.com and how the site is progressing.
Peter Chalder-Wood, Exchange-Rate.com, April 2010


Update: For more information about me and places I've travelled to click on my more about exchange rate page.


Solo Build It information

Click here to return from the About Exchange Rate page to the home page

Return to the top of the this page