Prepaid Travel Cards
Prepaid travel cards are one of the best and cheapest ways of buying your foreign currency. They are generally available in the major currencies such as Euros, Dollars or Pounds Sterling, although you can get them in other currencies.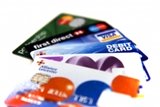 They are my preferred way of taking travel money abroad. They are low cost, convenient, easy to use, safe, and can be used for payments just like a debit card.
Once you have your card, you simply load it with currency before you travel. You can do this through transferring money from your account online or paying over the counter at one of the foreign currency providers or intermediaries.
The cards are provided by foreign exchange companies (Travelex, FairFX, CaxtonFX), banks, or other intermediaries (such as travel agents, the Post Office and other retailers).
You'll have to use a comparison website if you want to compare the cost of the different providers. Things to watch out for are:
Initial cost of the card (sometimes free, sometimes up to £5 or $10)
Fees to use at them foreign ATMs
Top up fees
Ability to top up the cards over the internet or by telephone
There are several benefits to using prepaid travel cards.
Used everywhere

The cards have the Mastercard or Visa logo on them, so you can use one everywhere credit cards are accepted. You simply swipe it as you would with your credit or debit card.
Lower cost

The cards have a much lower charge to use than either credit or debit cards. Swiping them at a checkout is usually free. The only fee you will usually pay is the exchange rate conversion fee when you first load the card with currency.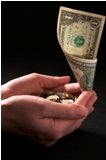 Withdraw cash
Alternatively, you can use them to withdraw cash at an ATM or cash machine. This involves a much lower fee than if you were to use your credit or debit card.
Simple budgeting

No credit or overdrafts are provided on the cards. You can only spend what you have on the card. This means that it is easy to organise your budget and keep track of it through your purchases, perhaps by allocating an amount to spend each day.

Return to buying foreign currency information page

Return from the prepaid travel cards page to the home page