Netherlands Currency
Find out the Netherlands currency exchange rate for your currency. Look at the following tables for at-a-glance comparison of the Dutch exchange rate (Euro).
Sloten Windmill, Netherlands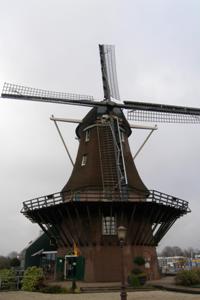 There are tables of Dutch exchange rate conversions for the following areas:
Key Trading Partners
All Countries
Netherlands Exchange Rate

The currency used in the Netherlands / Holland is the Euro (EUR).
A quick look down the tables will allow you to compare currencies. The tables show you one column with the local currency value of one Euro (EUR) and one column with the value of one unit of the local currency in Euros.
Tulips in Holland

Key Trading Partners with the Netherlands (Export and Import, US Dollars)
According the CIA World Factbook, there were approximately $556.5 billion (US Dollars) worth of exports from the Netherlands in 2012, which consisted of machinery and equipment, chemicals, fuels; and foodstuffs.
Exports:
$556.5 billion (2012 est.)
$550.2 billion (2011 est.)
$485.9 billion (2010 est.)
$424.3 billion (2009 est.)

Holland, bicycles and buildings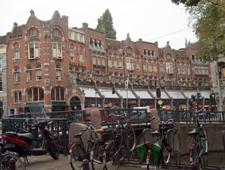 Imports to the country were valued at approximately $490.1 billion in 2012, mainly machinery and transport equipment, chemicals, fuels, foodstuffs, and clothing.
Imports:
$490.1 billion (2012 est.)
$492.1 billion (2011 est.)
$429.0 billion (2010 est.)
$373.4 billion (2009 est.)

Exports - partners:
Germany 26.2%, Belgium 14.1%, France 9.3%, UK 7.7%, Italy 4.8% (2011)

Germany 26%, Belgium 13%, France 9.2%, UK 7.7%, Italy 4.9% (2010)
Imports - partners:
Germany 14.5%, China 11.8%, Belgium 8.6%, UK 6.1%, Russia 6%, US 5.9%, France 4% (2011)

Germany 15.5%, China 12.6%, Belgium 8.3%, US 6.8%, UK 6.2%, Russia 5.6% (2010)
Source: CIA World Factbook
Exchange Rate Table of Key Trading Partners and Major Markets against the Netherlands Euro
Exchange Rate Table of All Countries against the Euro (EUR)
Euro Exchange Rate - quick converter
Exchange Rate

›
Currency List
› Netherlands Currency